Some of the Good Bugs That Should be Welcome In Your Garden:
Parasitoid wasps – feed on Aphids, Caterpillars and Grubs

Lacewing larvae – feed on Aphids

Ladybug larvae – feed on Aphids

Ground beetles – feed on ground-dwelling pests

Hover flies, and Robber flies – feed on many insects, including Leafhoppers and Caterpillars

Nematodes – kill many garden insects including, including Grubs and Japanese Beetles.

Bumble and Honey Bee – helps with pollination

Dragon Fly -eat Mosquitoes, Aphids and other pest bugs

Spiders – the most important predators on insects, killing more than all other predators combined
To attract Good Bugs to your garden, you will need to supply them with reliable food sources and shelter.
Insects have different feeding requirements during the various stages of their development, so a diversity of plants is essential to attracting them. Although beneficial insects do feast on pest insects, there may be certain points in their life cycles when many beneficial insects need to sip flower nectar or pollen to survive. To attract these insects to your garden, you will need to provide host plants and plants for shelter.
When you are planning your garden, choose a variety of plants that will bloom throughout the year to attract the Good Bugs!
http://www.plantingseedsblog.com/
What about the Slugs/Grubs?
Slugs are gastropods, just like snails, that lack an external shell, whereas grubs are insect larvae of some description. A cursory examination of the animals in question should prove enough to identify the blighters, grubs normally have well defined heads with biting mouthparts suitable for eating plant roots, they're normally a pale color in the body and darker at the head. Slugs are muscular creatures with feelers at one end and a tapered tail end, uniformally colored and with a large flat foot on the underside, they leave a shiny slime trail behind when moving over many surfaces.

Slugs are one of the most damaging pests known to the garden. A family of slugs can devastate a vegetable crop in a matter of days. Slugs will eat any kind of vegetation but prefer tender leaves. Slugs will also eat vegetables and fruits, and cause very unsightly damage to the crops.
Attracting slug predators to your garden can help to control or avoid a slug population. Toads, snakes, ducks, chickens and raccoons are some of the most common predators of slugs.
As you continue to learn to work with the Good Bugs and the inner working of your garden you will see the benefits and all of the "give and take" at work at your feet.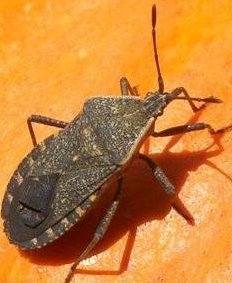 Squash Bugs: (Anasa tristis) The nymph stage is a tear drop shaped crawling insect with a reddish colored head, greenish-yellow body and red legs when just hatched. Adult has a shape similar to a cockroach and is 5/8 inch long. The main body color is brown to black with some brown to orange marks around the edge of the abdomen. Eggs are laid on the undersides of leaves. They are elliptical in shape and have a shiny brown, red or yellow coloring. Eggs take 1-2 weeks to hatch. They hibernate as an adult in garden debris and go through one generation per season with the new generation mating the following season. The nymphs will take a whole season to reach adult hood, going through 5 stages of molting. When crushed or disturbed they give off a putrid odor. This same reaction is found with stink bugs which are often confused with squash bugs.
Both the nymph and adult stage are very destructive and operate in the same manner. Seedlings and young plants are particularly vulnerable to the squash bug. Winter type squash, like Marrows or Hubbard are more at risk from the squash bugs than other cultivars. They have a sharp mouth that pierces plant tissue allowing them to suck the sap. If that is not bad enough they release a toxin at the same time while feeding that causes certain plants to wilt!
Predators: Tachnid fly. Praying mantids eat the eggs and nymphs.
Repellant Plants: Marigolds, borage, mint, tansy, nasturtiums and radishes.
-A thorough fall garden clean up is essential to prevent them from overwintering.
-Dust a combination of 50/50 wood ashes and hydrated lime in a shallow trench around host plants being careful not to get it on plant foliage. Moisten it to keep it from blowing away. It will desiccate the bugs.
-Here is an interesting method from one of our visitors: Kayla A., an organic grower from Nebraska. Kayla sprinkles imitation vanilla around susceptible plants and swears it keeps them away. Certainly worth a try. Thanks to Kayla for this!
-Consider growing your plants on trellises which offers some protection.
-Use old scraps of plywood or thin boards under which they will congregate making for easy capture.
-Handpicking is effective though time consuming. Dump them into a bucket of soapy hot water.
-Use compact mulches like sawdust which they do not like. Avoid plastic mulches as for some reason they seem to help increase populations.
-As a last resort you can spray with rotenone or dust with sabadilla.
-Use insecticidal soap mixed with isopropyl alcohol.
Blister Beetles: